Our Vision - to be the Best
Supplier City was developed for you by Contracting and Internet Professionals to achieve one goal:


Simplify & accelerate the purchasing process for buyers & sales representatives world-wide
The primary goal of our internet site, which supports both Individual to Business (I2B) and Business to Business (B2B) applications, is to help buyers and sales representatives perform their jobs faster and easier than ever before...by significantly simplifying and accelerating the advertising, marketing, quote preparation, and competitive purchasing process...to award contracts and accelerate the speed of business.

Anyone who has a legitimate purchasing requirement can use our site, day or night, for FREE to instantly find and research competitive suppliers, obtain competitive quotes from selected bidders either for "individual to business" or "business to business" requirements (i.e. personal use or on behalf of your company), and to award purchase order(s)(competitively or non-competitively), for products and services requirements simply and easily with the registered supplier of their choice.




Need It.....Supplier City is among the fastest ways on the Internet to find 1000's of competitive suppliers of products and services for yourself....or your company.

Compete it....Our easy on-line Request For Quote (RFQ) system competes requirements instantly among competitive suppliers you select for the products or services you need...for free.

Buy it....Supplier City receives and sorts competitive quotes by price...empowers the buyer to select the successful offeror and instantly create and award a purchase order to the supplier...at no cost.



Supplier City implements leading-edge technology to simplify the purchasing process by providing the following capabilities to buyers and sales representatives:

Buyers



Free usage, no charges, no fees


Identifies competitive sources for thousands of products and services instantly


Empowers buyers to access web-sites, e-mail sales reps, and choose bidders


Accelerates RFQ preparation and issuance to selected sources


Notifies buyers via e-mail when bids are received


Sorts competitive bids, creates and awards purchase order to selected source


Provides award notification via email to selected supplier
Sales Representatives



Eliminates "cold calls", e-mails RFQ directly to the sales rep at home, office, or on the road


Markets your company name and existing internet site to buyers and purchasing departments


Links buyers and purchasing departments to the existing web-site of registered suppliers


Accelerates quote preparation


Submits quotes instantly via the internet and provides email confirmation


Registers supplier's products and services quickly and inexpensively


Accelerates purchase order acknowledgment and acceptance (electrically or fax)

Simplicity - The Key to Success
Registration significantly accelerates preparation of Request For Quotes, supplier bids, and resulting purchase orders; these documents are created instantly from our Internet site with registered information provided and maintained independently by the buyers and sales representatives through assigned access code numbers and passwords. The registration process for both buyers and suppliers, with resulting assignment of Buyer Code Numbers (BCNs), Supplier Code Numbers (SCNs), and passwords, are the keys to simplifying and accelerating the purchasing process for the mutual benefit of buyers and sales representatives.
Our Logo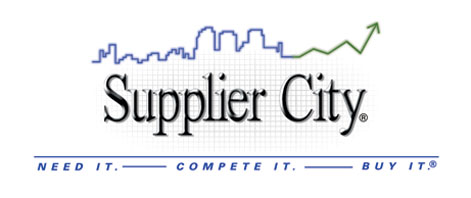 The logo for Supplier City Incorporated is a favorable business trend line in the shape of a city with a graphic background. This logo highlights "Supplier City's" goal and commitment to simplify and accelerate the purchasing process through the latest internet technology for the benefit of buyers and sales representatives.